Post spending the last few months at the Campus, we headed out for our Industrial visits and then on to our internships. It was a mixed set of feelings, leaving the confines of our home away from home, the campus and moving towards Industry, where we all plan to be spending the rest of our working life.
Our first stop on the 12th of October was a trip to a digital agency, iProspect, who are a part of one of Asia's largest advertising conglomerates, Dentsu Aegis. The office was a grand one, buzzing with activity and our 1st glimpse into life in the fast lane! We were greeted by Mr. Benedict Hayes – Executive VP of Strategy,an executive who has a vast knowledge of technologies, systems, processes and tools which is the backbone of the Digital World. Mr. Hayes took us through a detailed presentation about digital India, and the opportunities which are available in abundance as a career choice as communication's specialist. He took us through how India is changing digitally, and the promises it holds in the digital arena.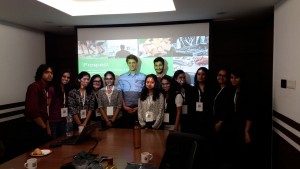 On Mr Hayes, my batch mate, Ankita Kureel said "It was interesting to see a foreign national tell us all about the Indian digital scenario. That is something unusual but heart-warming how the World is looking at India as place with immense potential."
Mr Hayes also took us through a presentation about Dentsu Aegis, its subsidiaries, and how they all work together. This got us thinking off all the sessions which we have had on IMC (Integrated Marketing Communication) and it began to make sense of how it functions in the World of marketing Communications.
While we were being taken through the part on iProspect – the digital arm of Dentsu, we had insights into some trailblazing campaigns done by the agency in the recent past. The digital agency has won eight awards at the 5th Asian Customer Engagement Forum making it the Agency of the Year 2015.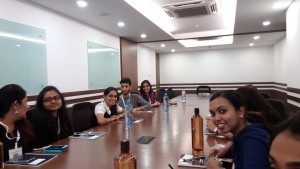 Post lunch, we were taken to the iProspect office, a few buildings down the road and here we met the various heads of department which make a Digital Agency. We were then taken through the various departments – SEO, Creatives, Client Servicing and copywriting. There was also a room especially meant for brainstorming complete with a PlayStation console! I could see a lot of glee in some of my batch mates faces as they surely wondered how they would wish to work here! We met a few ex-Northpointers as well here, who interacted with us and patiently answered all our queries.
It is remarkable how it all makes so much sense when we mix theory, which we have been having at the campus and the practical real life experiences of visiting an Agency. Suddenly there were quite a few of us who started to view Digital as a serious option for our specialization.
We were surely impressed by iProspect's work. Like Rishi said, "I was particularly amazed by the work that the company has done till date. I liked how Mr.Hayes explained how the company functions and what it's like to work there."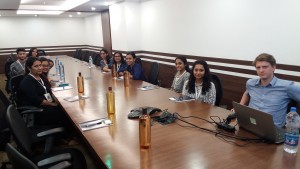 The day was well spent and we had a lot to take in by the end of it. Northpoint would like to thank Mr. Hayes and the entire Dentsu team for making this possible for us. It was indeed a great experience.
Pallavi Dhote
pallavi.dhote@northpointindia.com