Ninjacart came up with a novel strategy to boost their sales – selling onions at Re 1 per kg!
The time when prices of onions were at their peak, online retailer Ninjacart came forward with a cost-effective and ingenious marketing strategy. From 5 PM on Friday, September 4, 2015 till Sunday, September 6, 2015, they sold onions at Re 1 per kg at their online shop. The Pune based company delivered only handpicked grocery and provided their customers with high quality (Grade A) onions.
The method of delivering the onions was eco-friendly; the onions were delivered in specially made Ninjacart carry-bags. According to one of the team members, an important part of Ninjacart's business model was distribution of packaged onions to grocery shops that the company has tied up with. They used various ideas to get maximum orders by creating grid system which helped them connect with various delivery networks.
The campaign helped the team achieve much more than its expectations. They engaged customers through various social media platforms, which also earned them a lot of feedbacks. Instead of going for big, expensive hoardings, Ninjacart went for an innovative, simple idea. The support that it got from people is reflected in numbers. Ninjacart reached out to more than 20,000 customers in just three days and fulfilled more than 2,800 orders each day throughout the campaign. The campaign also got Ninjacart trending on Apple's App Store as well as on Google's Play Store.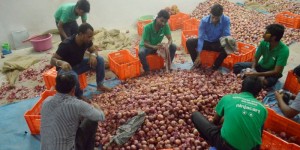 The question that remains is quite common – what did Ninjacart achieve in return? They sold onions at a rate much lower than the market rate, but only for a limited period of time. What they gained was a long term engagement with their customers and more importantly, a substantial number of new customers. E-commerce firms need to evolve with such quirky ideas and balance their act. The Marketing Communications course at North Point Centre of Learning peeps into and explores such unique approaches to marketing. To know more about this course, check out
Source: https://ninjacart.in/