"When someone leaves, it's because someone else is about to arrive." This is the quote from Paulo Coelho's bestseller The Zahir .Little did he know that Ramdev Baba will take him seriously! The all new Patanjali Atta Noodles are ready to fill the shelves that Nestlé's Maggie actually left vacant.
Maggie Noodles, who were the leaders in the business of instant noodles in India, were banned across the country by June 2015. The reason being it contained lead and MSG above the acceptable levels. Following to this incident, Ramdev Baba's Patanjali (Also Read : Yoga to Marketing – Guru for Sure) had already sent its instant Atta noodle samples to the Food Safety and Standards Authority of India (FSSAI) for testing. Ramdev Baba was quoted as being confident that his absolutely safe and healthy noodles will hit the market in 1 or 2 months.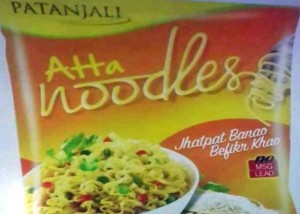 And here they are with a tagline 'Jhat Pat Pakao, Aur Befikr Khao'! By next week this brand will be in the market. It will cost only Rs 15 per packet which is definitely cheaper than any other noodle brand. He has also assured that the noodles will be whole wheat and will content a health-maker instead of a 'taste-maker'. Patanjali has also claimed that they will only use rice-bran oil even though its competitors use palm oil which according to them is of inferior quality.
This leads to many questions in our head! Does this mean that Nestle w
which is trying to re-launch its brand by December will never find a footing their market again? Does this make Patanjali, a brand with more than 2,000 crore revenue, a leading brand in most segments of consumer products? Well, the picture is clear as the noodles will hit the stand by October 15. But looking at the quality of products offered by Patanjali till now and the credibility that Ramdev Baba has in this country, Patanjali is challenging serious threat to some of the biggest foreign or domestic brands in India that looks to be the course of near future.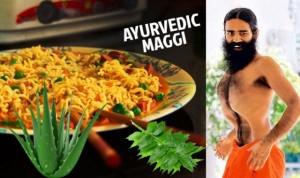 With the wave of 'Made in India' on rise and the lack of a serious competitor, Ramdev Baba's principle of Swadeshi might just be the new 'in' thing!!