How do we get to learn? Be it swimming, cycling, playing a musical instrument, playing a sport? How do we get to learn? We fall, we make mistakes, we humiliate ourselves till we eventually learn.
We had a similar experience with our Sales Internship. With no prior experience, we were thrown in the deep side of the swimming pool and in the end, we learnt to swim!
Standing all day didn't seem like a task at first, but after the first two days itself, we realized that it was a harrowing experience. Giving EMI breakups to the customers was an easy first task. The difficult bit came in when we had to judge who was the 'right' customer and who was not.
Slowly, we got a hang of things and started to achieve conversions. We understood the behaviour of the customer, gained valuable learnings and insights.
Handling the customer took patience, skill and sometimes a lot of trickery. Sales is a sector field where the competition is immense between brands and so is the competition between salespersons, between stores and between customers itself!
The war for gaining an edge over status symbol during the Diwali period was quite evident in the kind of purchases the customers made. People exchanged their 40' inch fully working Televisions which they purchased a year ago for something five or ten inches bigger.
Between this clutter is where we placed to work, we had to have knowledge of all the brands that we were selling, right from Air Conditioners, Televisions, Mobiles, Washing machines, Laptops and personal computers and everything else in between.
If we got stuck while selling anything, the salespersons were always there to help us out. Capital First is located among all major Consumer durables outlets possible and also in small electronic outlets.
So, effectively, Capital First, the customer and the store, these are the three parties involved in a typical EMI transaction.
Permeating though these channels and being present everywhere is where Capital First wins the game. So, basically, the store wants sales to happen, the customer wants products readily available and Emi options with them and Capital first wants more customers to make use of the Emi option.
Thus, it becomes a Win-Win-Win situation for everyone involved in the transaction.
Managing the customer's expectations is a tricky part, agreeing to everything what the customer says goes a long way. Here, Adequate service is the basic service that a customer wants from the store and subsequently from Capital first. Desired service is something that beyond that surpasses the customer's expectations. The Zone of tolerance for the customer varies from every service experience.
For Instance, if a customer has a bad experience, it is seen from the diagram below that the Zone of tolerance has decreased. Sales is a volatile field with a barrage of emotions of everyone in it. Thus, the focus should not be on Customer Satisfaction! But instead something called as Customer delight factor.
If the performances are consistent over a period of time then the customer won't just be satisfied, but he will be delighted!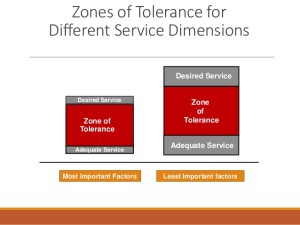 Vishnu Sudharshan
PGPMarComm 2017-2018